Over the Counter or Prescription Weight Loss Pills?
The scale isn't always a friend. In fact, sometimes it can feel like your worst enemy. Especially when trying valiantly to lose weight and get your body to a healthy point where you're fit and active. Your body often hits a set point, or plateau, where it just feels like it can't lose any more weight no matter what.
This can be extremely frustrating. Maybe even make you want to scream. But instead of losing your voice—and keeping at your current weight, other options out there may help you get over these setbacks. Weight loss supplements are an extremely popular method of helping your body to get rid of the extra weight and fat clouding and blocking your scale-friendly goals.
Over the Counter or Rx?
Over the counter weight loss pills seem to be growing by the day, but prescription weight loss aids seem like they'd be a reliable choice as well. How do you decide whether or not to go the prescription route?
First of all, you must decide if you'd even qualify for a prescription weight loss aid. Diet pills your doctor would prescribe for you are only for those whose body mass index is either 30 or higher, or 27 or higher with added health risks such as heart conditions or high blood pressure.
The Truth About Prescriptions
Prescription diet pills work in one of three ways. One kind works as a stimulant to fire up the central nervous system and acts as an appetite suppressant. The second kind works to increase levels of serotonin and norepinephrine to keep you feeling full. The last kind prevents your body from absorbing part of the fat you consume.
None of these options are meant for long term use. They work strongly and create several reactions throughout your body so you can get to a healthy weight. Usually, they are only prescribed when the extra weight being carried around is a serious health risk.
What Else Are You Getting?
They also come with side effects and other risk factors. Depending upon which drug you're prescribed, they have different risks associated with each of them. The first kind comes with risks of pulmonary hypertension, increased heart rate, dizziness, constipation, insomnia, and dry mouth. The second kind of prescription drug can cause headaches, dry mouth, anorexia, sore throat, and constipation. The third kind may cause diarrhea, oily stools, gas, and a huge decrease of the absorption of vitamins.
These risk factors usually outweigh the risks of being extremely overweight. However, there are several over the counter, all natural drugs that can help you get on the right track to losing weight and becoming healthy. Many come with little or no side effects, and help your body where it needs it the most, whether it's with appetite suppression, more energy, higher metabolism, or other areas.
Our Recommendation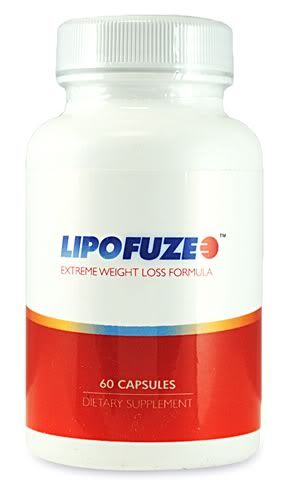 Keep in mind all natural weight loss aids when considering weight loss pills. It's always good to consult with a physician before starting any weight loss program, but know that prescription weight loss pills are only a few of your options.
For an over the counter, completely natural weight loss aid, we'd recommend Lipofuze. With Lipofuze you get 8 specially formulated, all natural, safe ingredients that have been clinically proven to cut your appetite and help you get rid of the extra fat lying around You can read more about Lipofuze here at Lipofuze.com. Make the scale your new best friend!
Post a Comment!
---